CORFU
First up on our island hopping trip was Corfu which sits on the western side of mainland Greece off the coast of Albania. It's one of the greenest and most lush of the islands and looks totally different compared to the more touristed Cyclades islands on the other side of the country (which include Mykonos and Santorini). We landed on a ridiculously early flight from Athens and arrived to our small hotel to find not a soul in sight, not even an employee. So we changed into our bathing suits, watched the sunrise and started the pool party early! We stayed in Agios Gordios, a small bay on the west side of the island. Our hotel was up on a hill with sweeping views of the water, a nice perk to staying on an affordable island. Each day we would take the city bus around to explore new beaches or just hang by our pool. The food highlight was trying grilled octopus for the first time at this amazing little family run restaurant down the street from our hotel. We chatted with the owners who run the restaurant 5 months out of the year during busy season then take off to travel the rest of the year.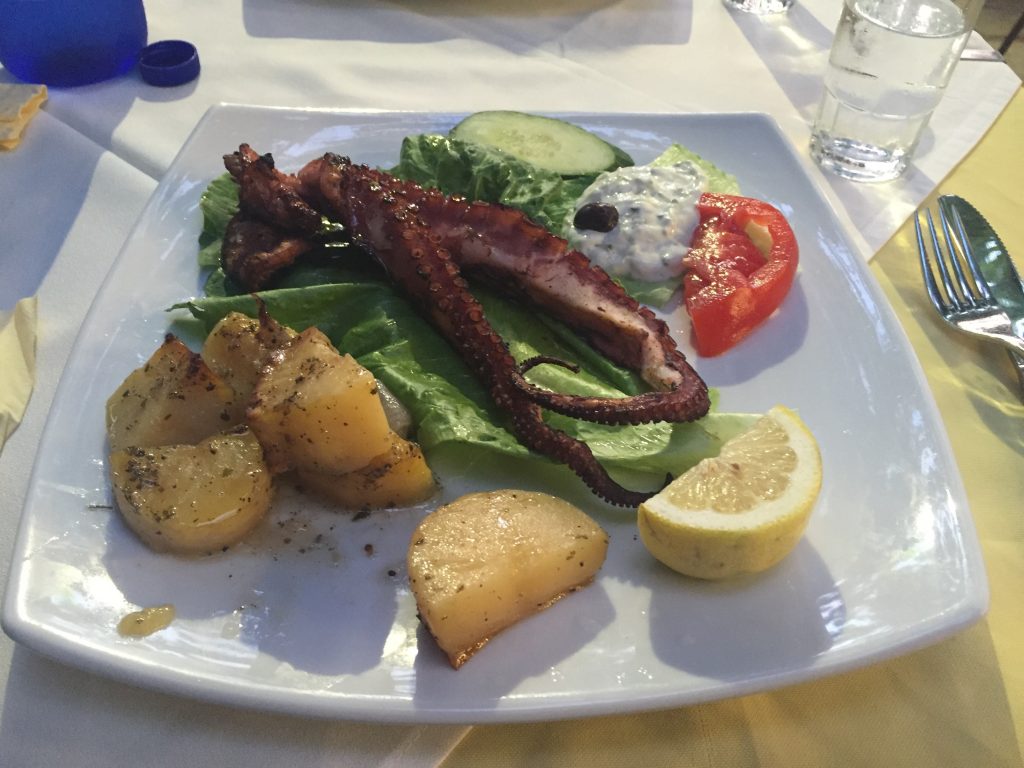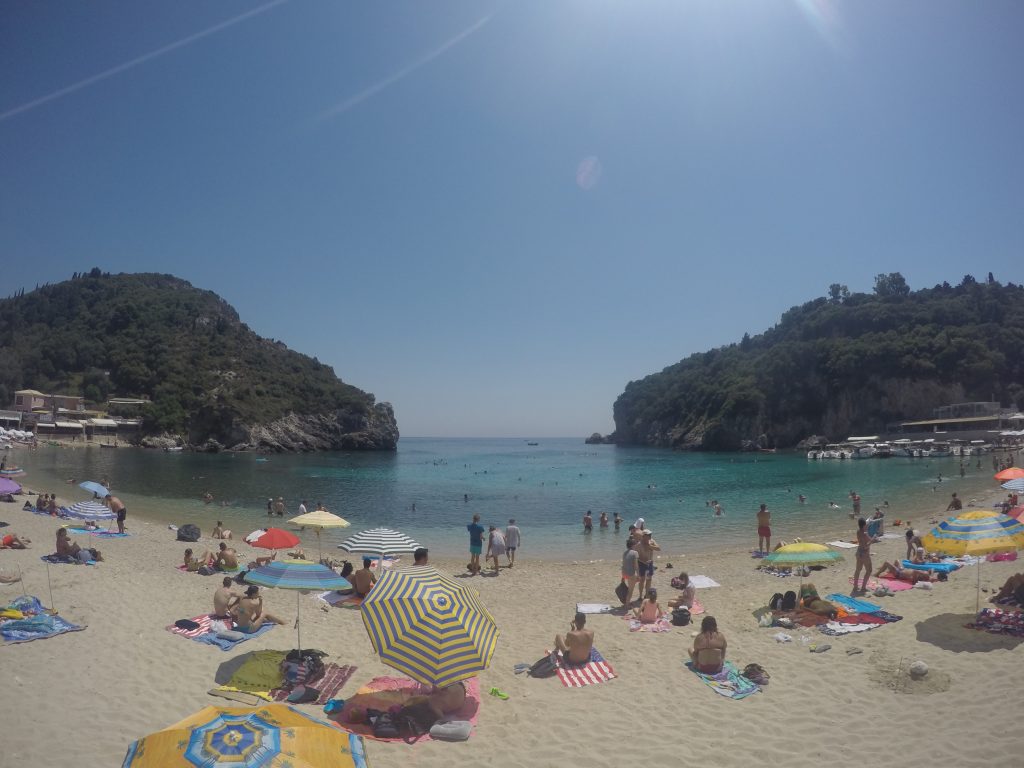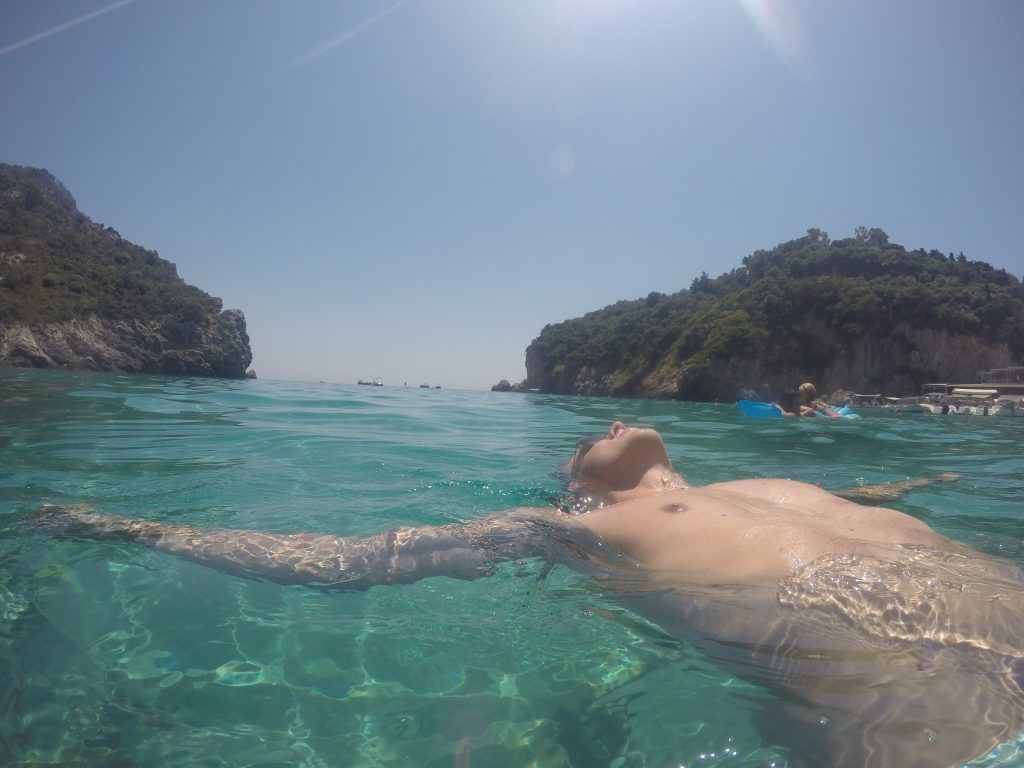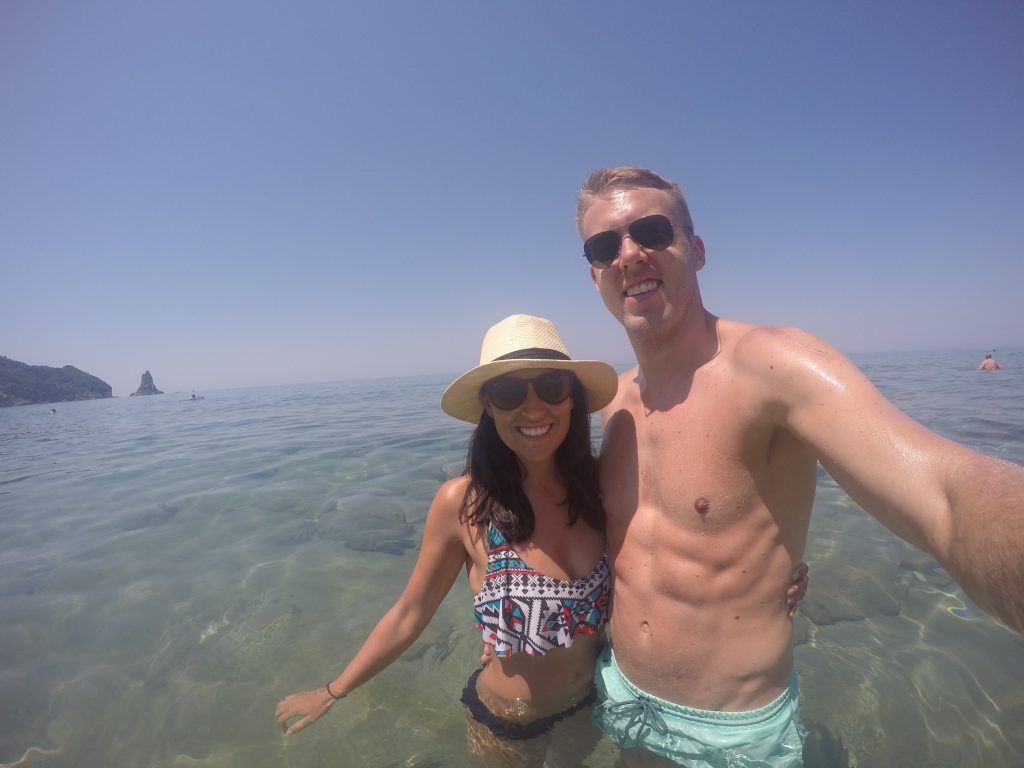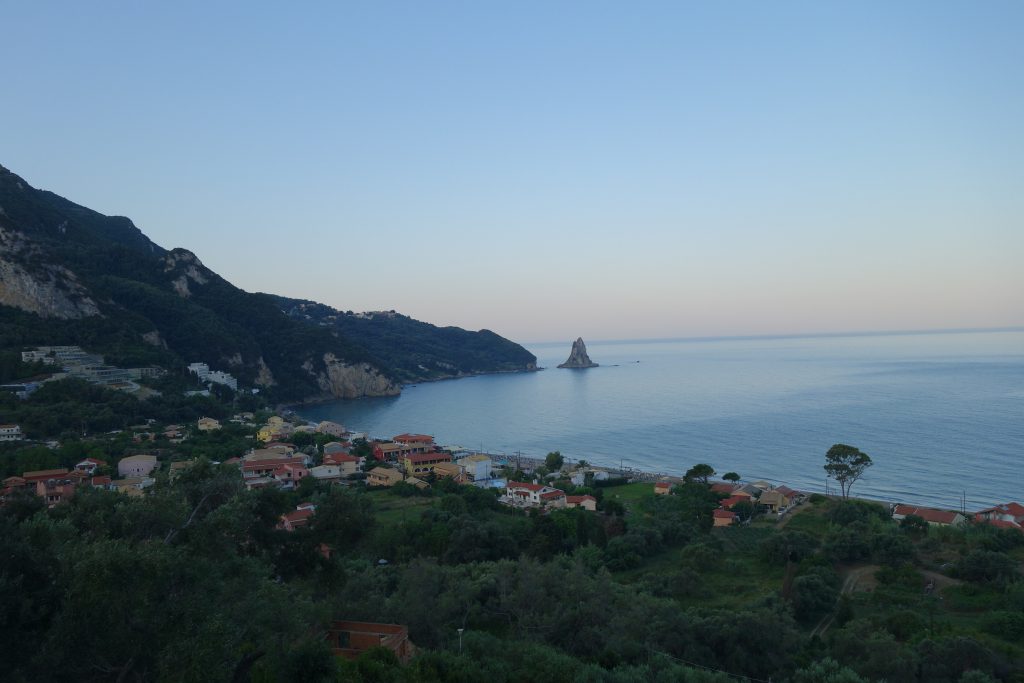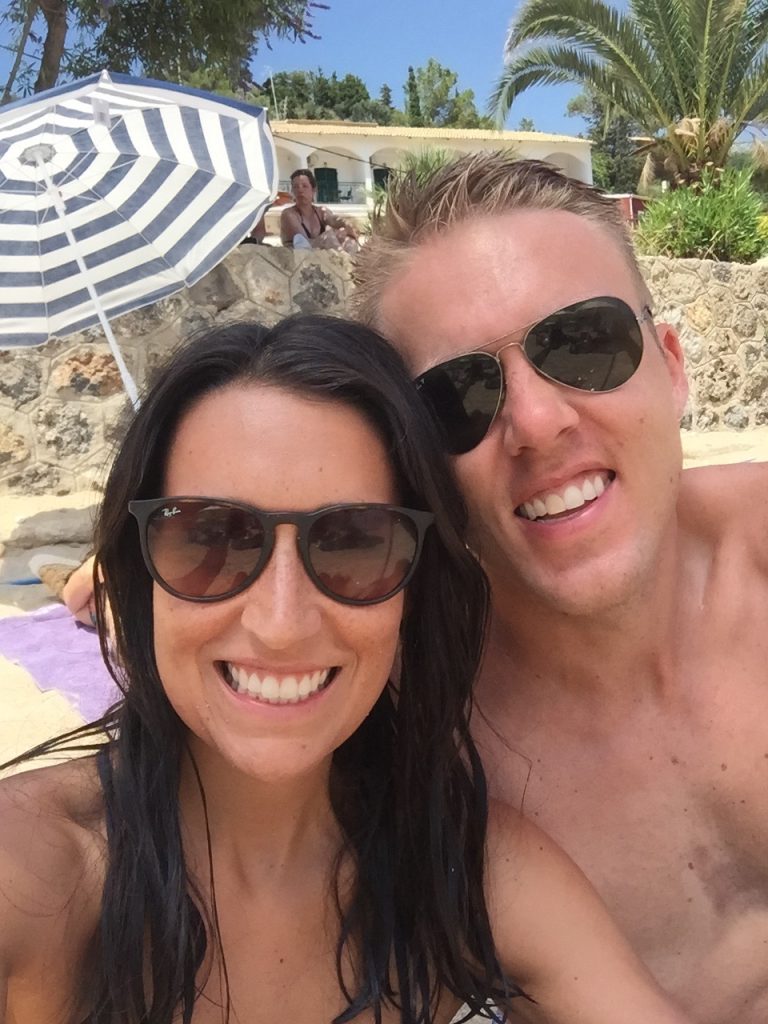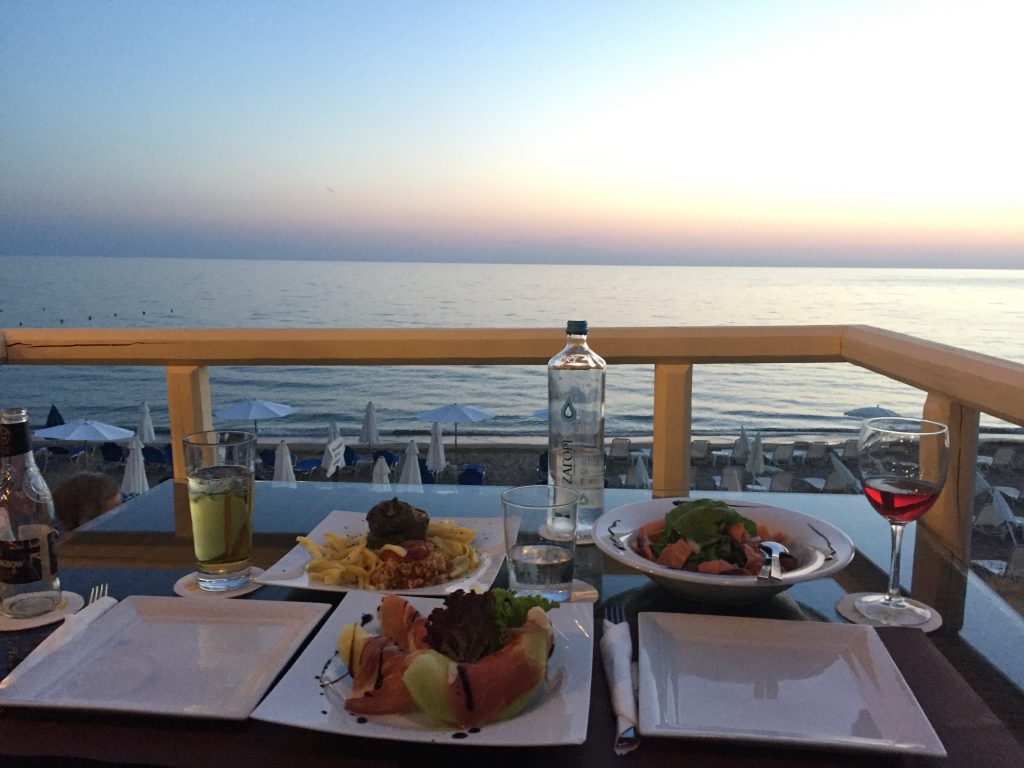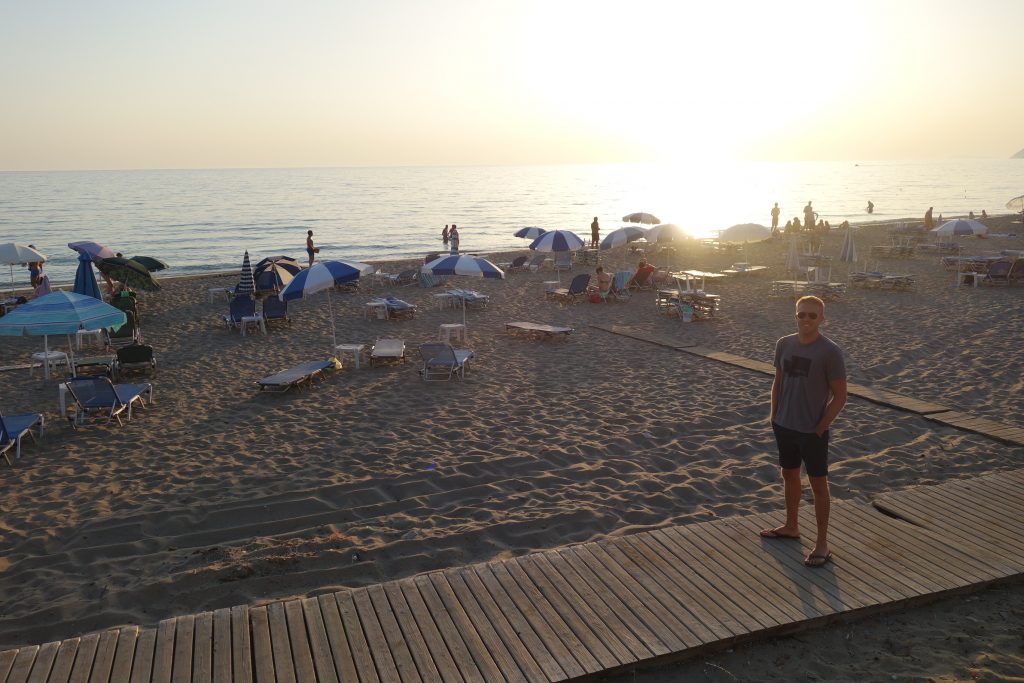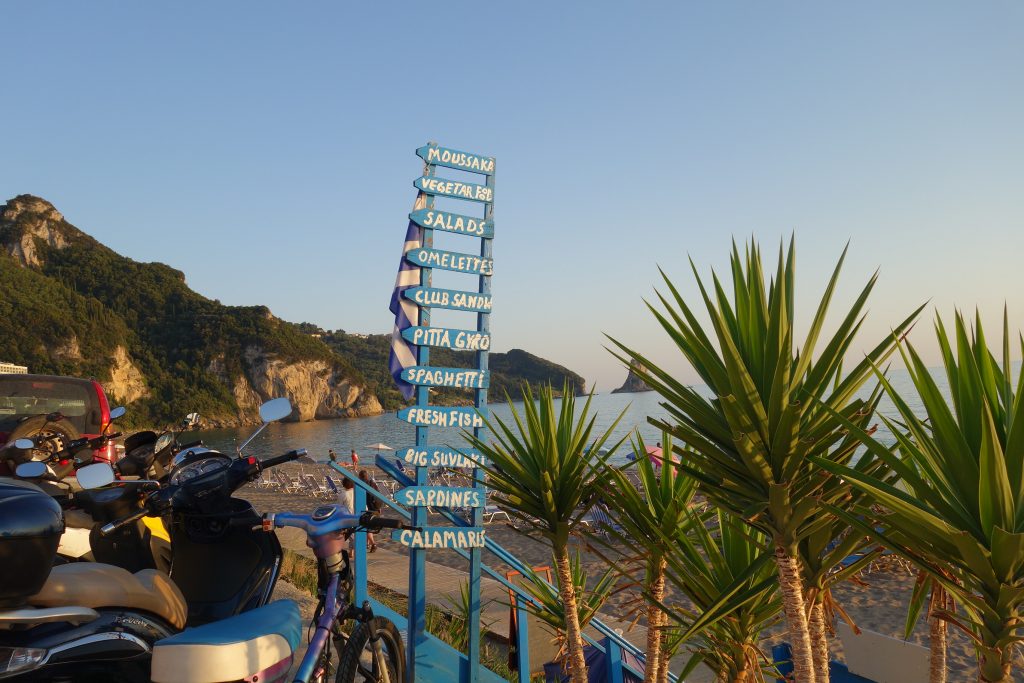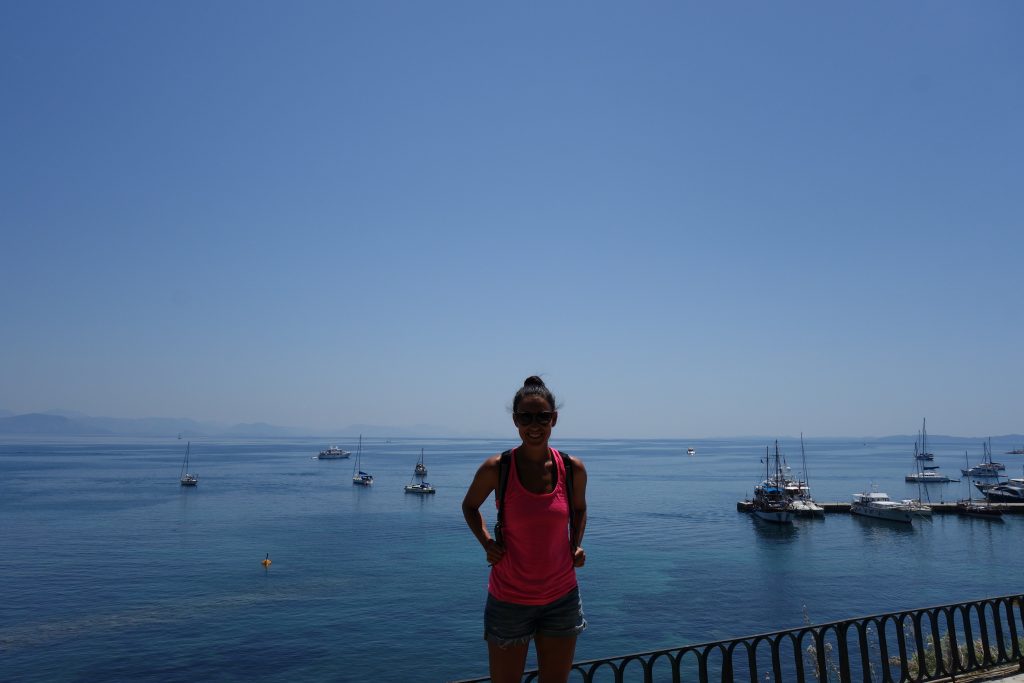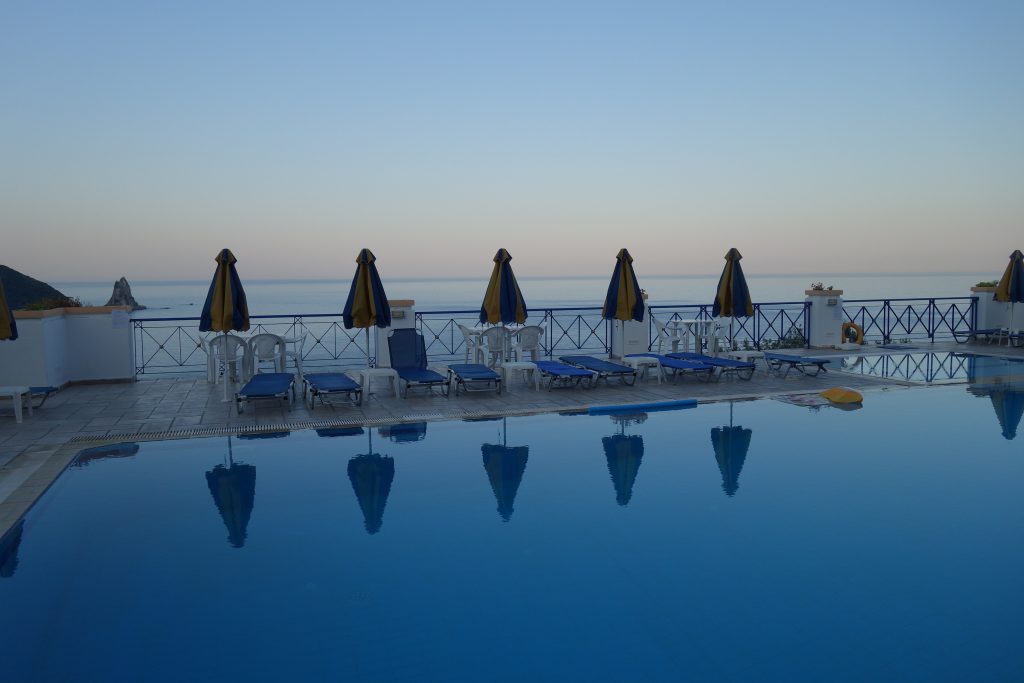 SANTORINI
It was a given we would visit this island simply because of how iconic it is. I can't have an Insta scroll session without seeing gorgeous travel photos from Santorini in my feed. But to be honest, I had my doubts that it would live up to the hype. We've learned that an unfortunate byproduct of traveling this way and seeing one awesome place after another is that after awhile…you become less in awe of them (I know, you have permission to smack me). But wow, Santorini completely lived up to the hype! I felt like I was walking in a postcard. Idyllic surroundings with whitewashed buildings, blue roofs and pink bougainvillea flowers spilling everywhere. And man, those sunsets. After taking photos of us during one sunset I looked at them on the camera and it seriously looked like we were behind a fake green screen! The only downside to Santorini (besides the prices compared to the rest of Greece, ouch) was how ridiculously crowded it was mid-day when the hoards of cruise ship go-ers descended on the towns. We stayed at a small budget hotel in the town of Fira within walking distance to the caldera edge. But in my head I was dreaming of one day coming back to a private bungalow on the cliff complete with my own infinity pool…wearing ridiculous bright maxis and a big floppy hat sipping cocktails…  Sorry, where was I? One of our Santorini highlights was doing the hike from Fira to Oia. And by hike I mean really mean walk with some slight inclines. It took about 3 hours and runs all along the cliff between the two towns so it's a sweeping view the entire way. It was so pretty! We must have been the only tourists wanting exercise (trying to work off what I now call the "travel ten") because we only saw a few others the entire trail. While we purposely started super early to beat the heat, we were dripping sweat by the end but it still was totally worth it.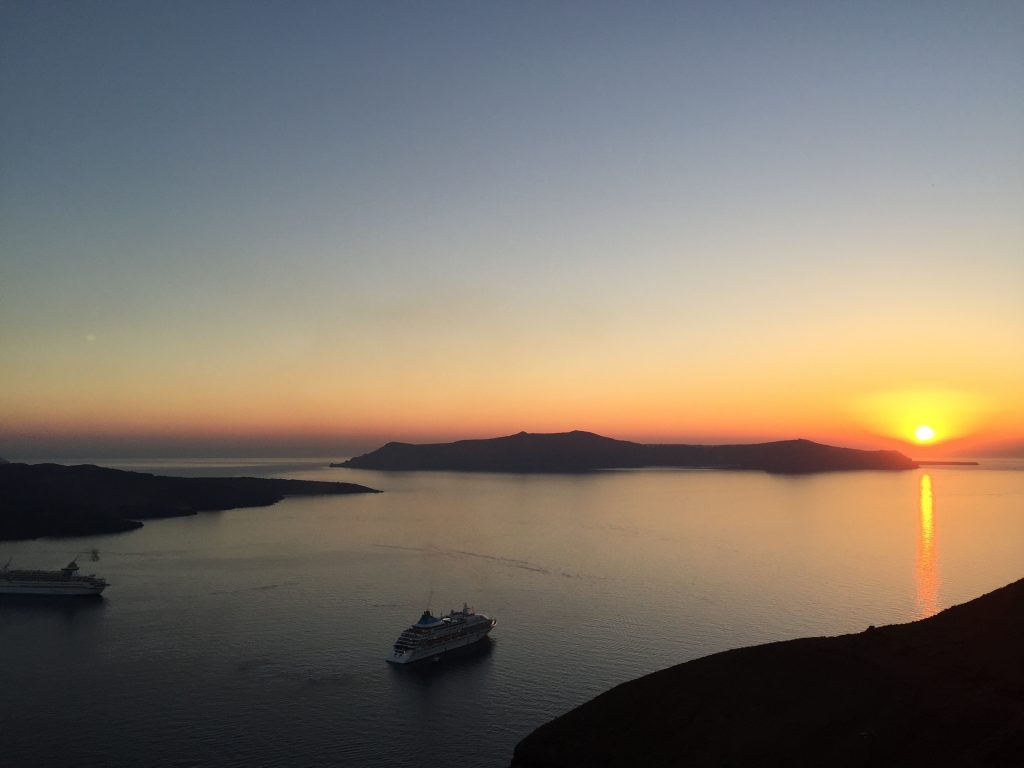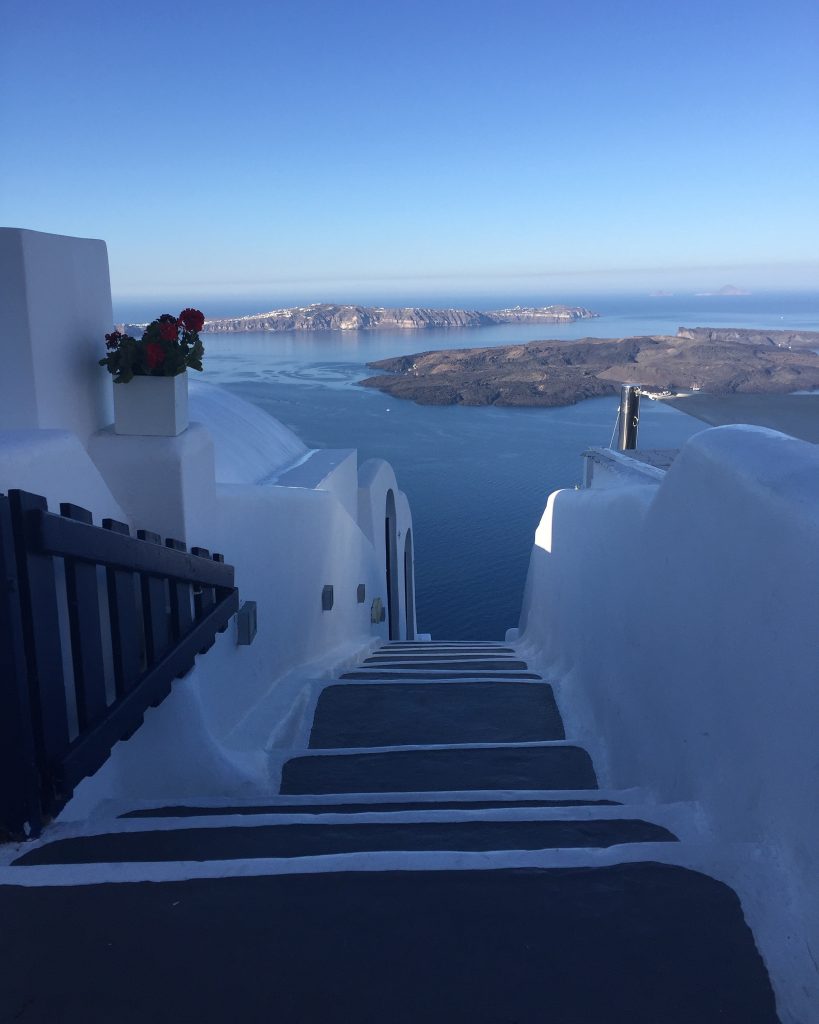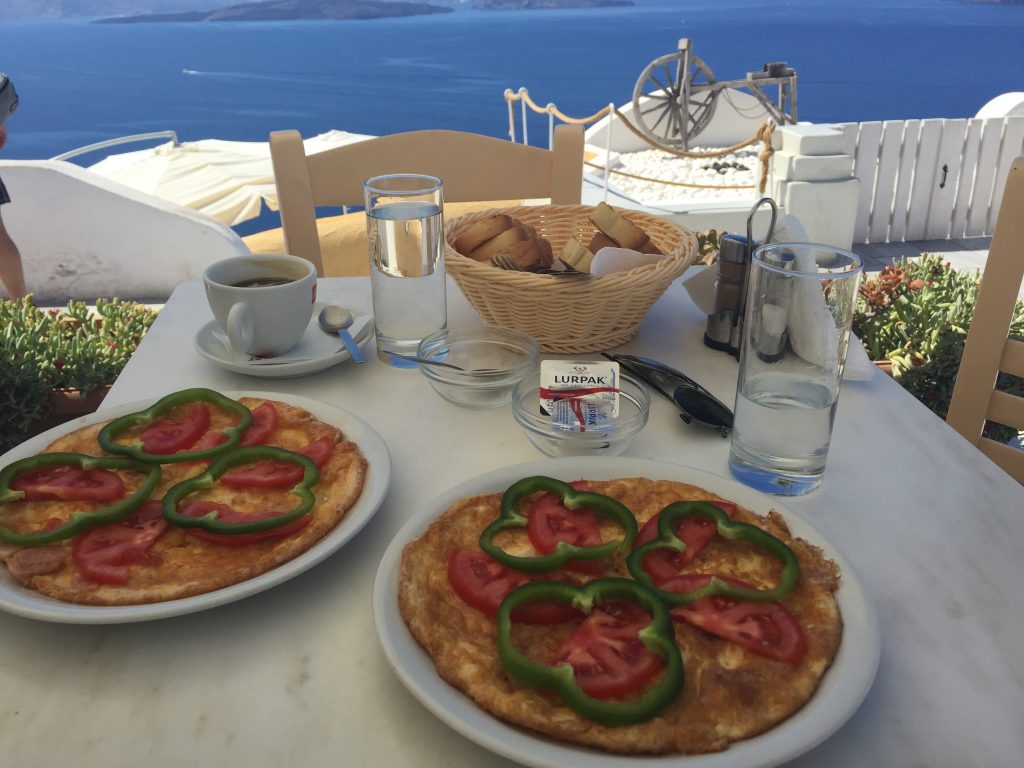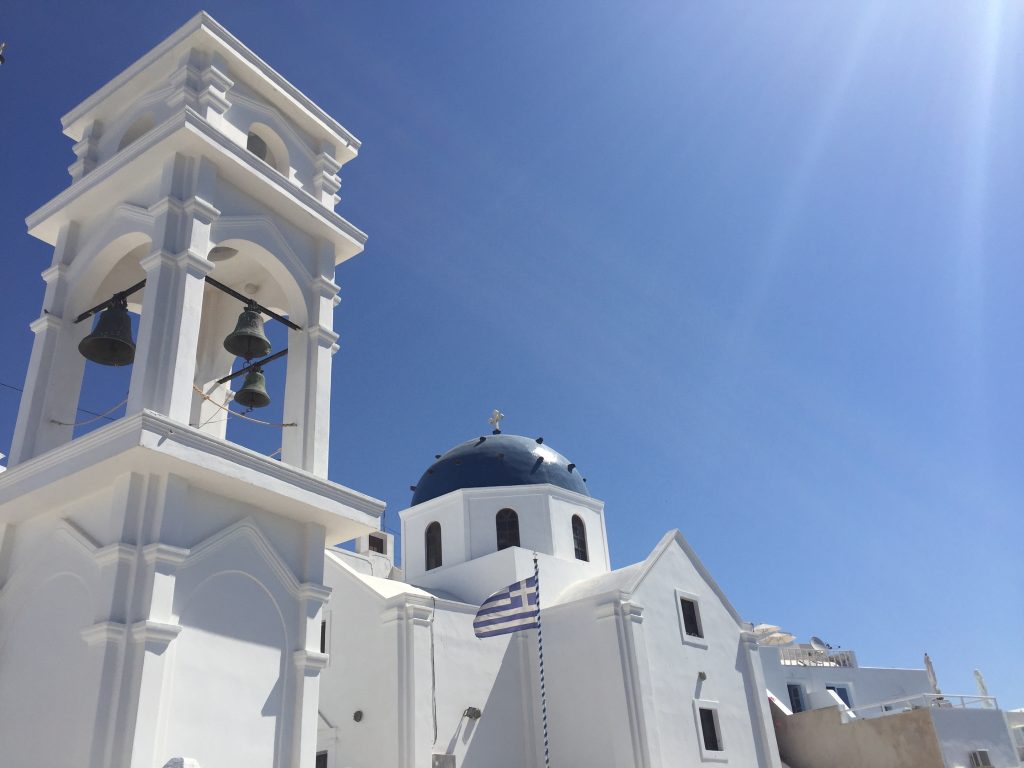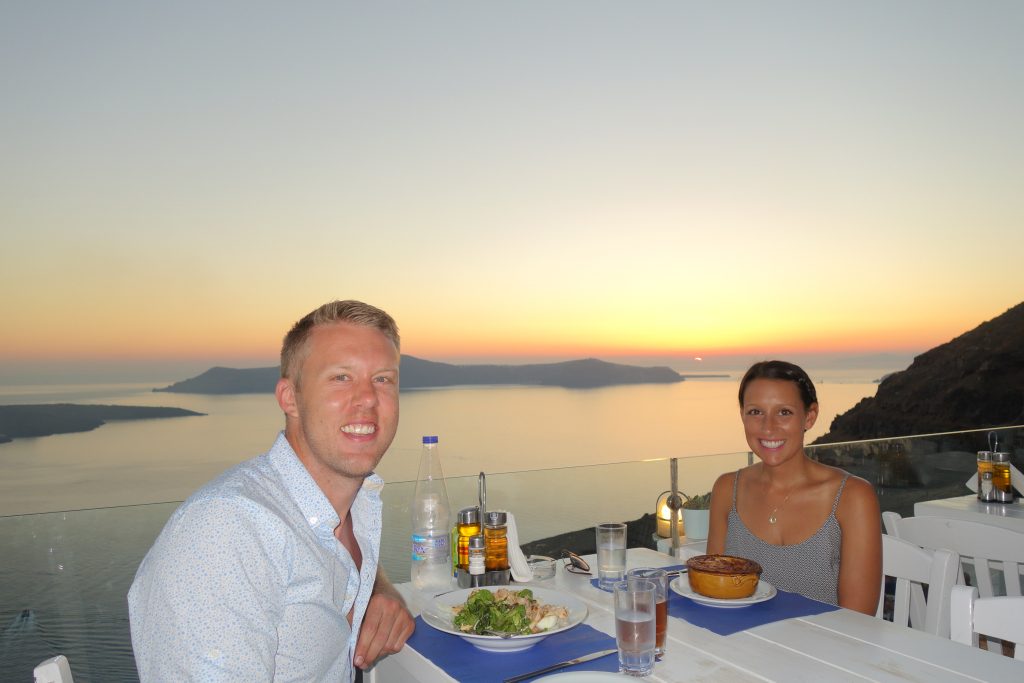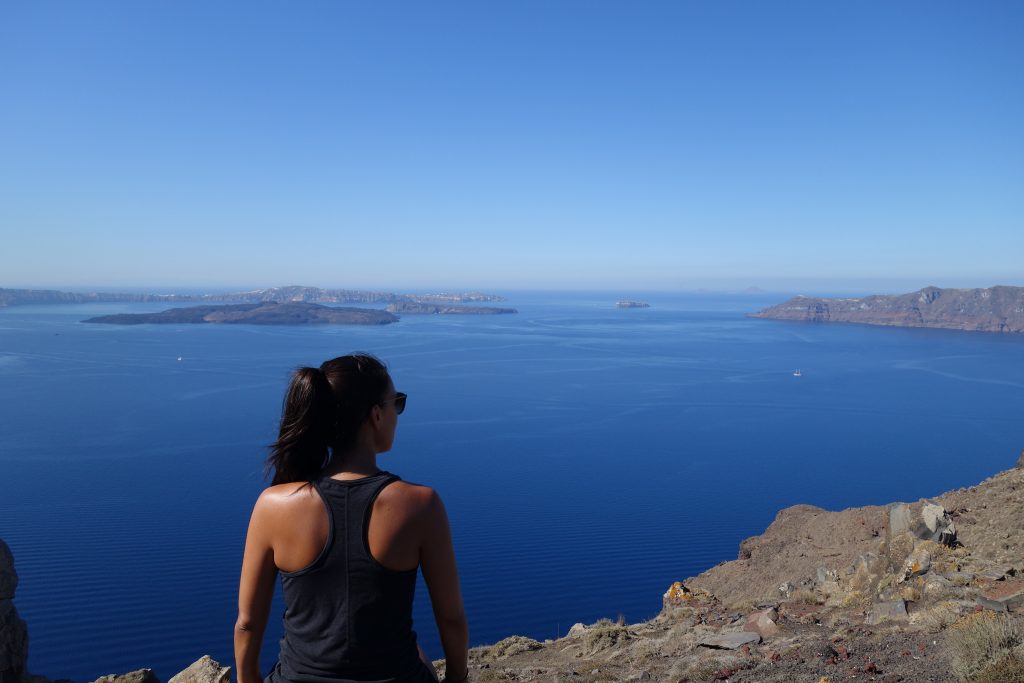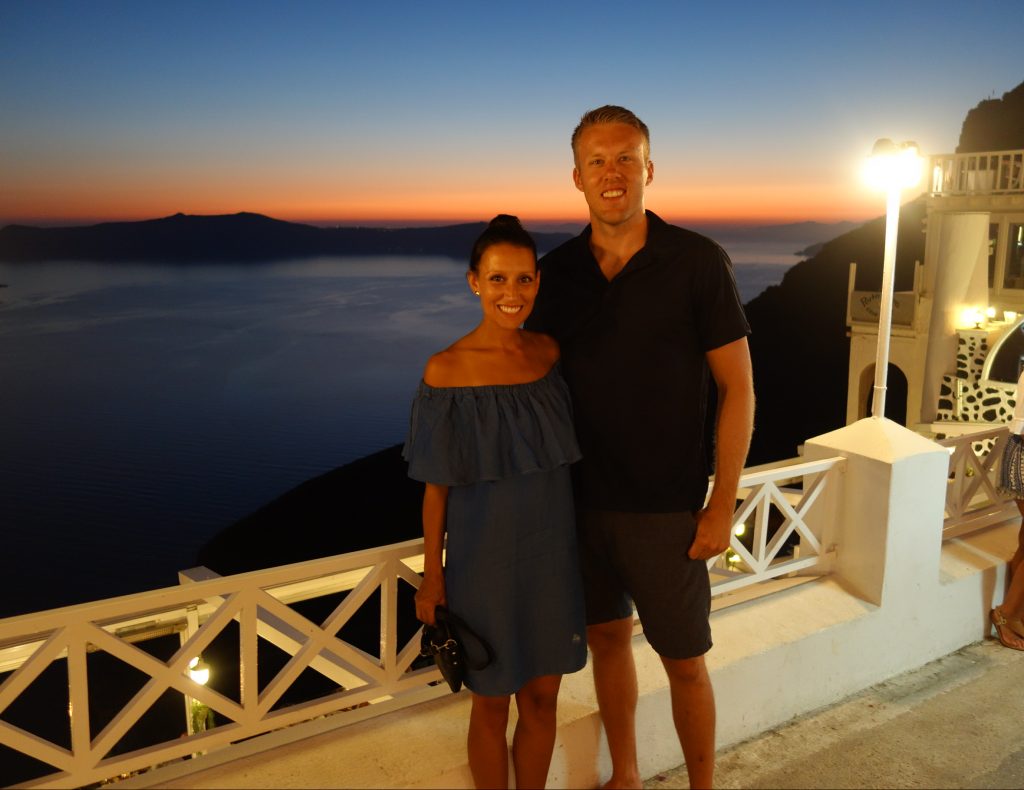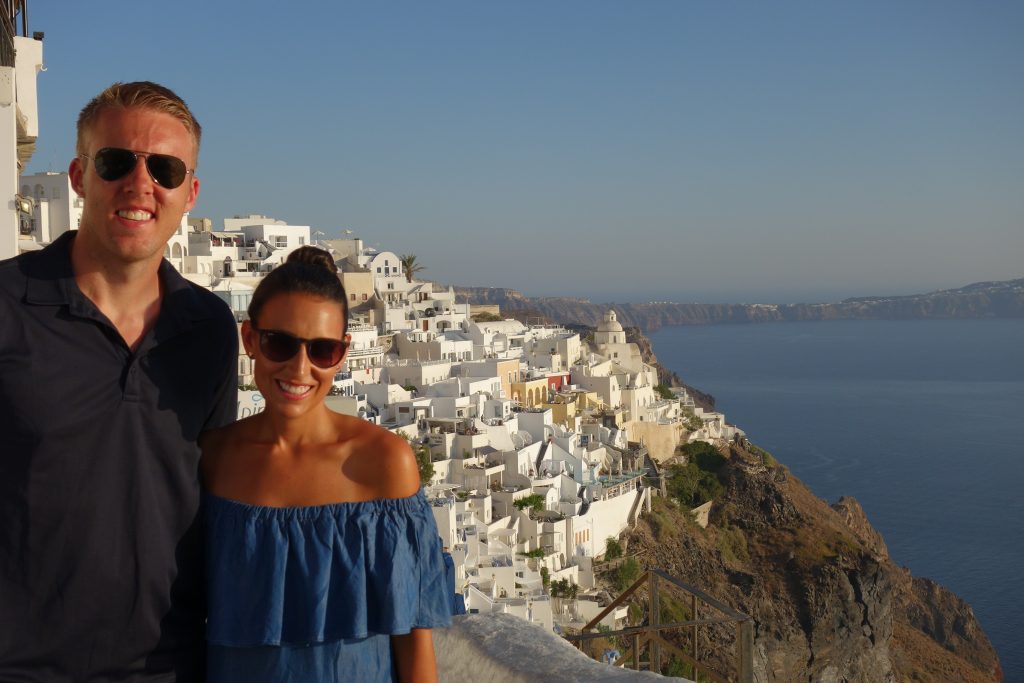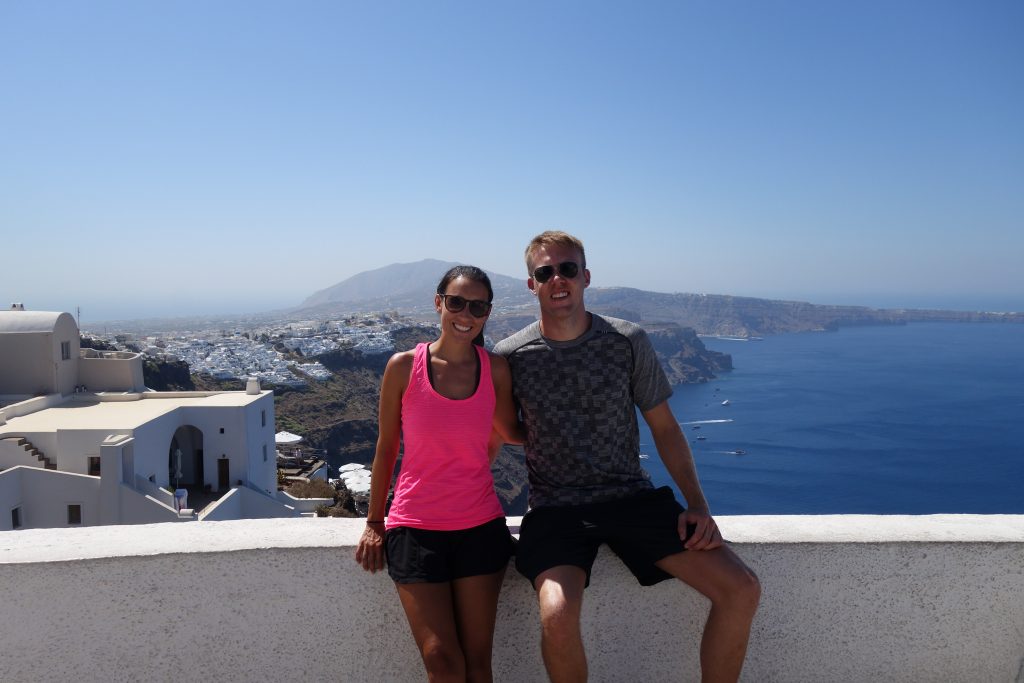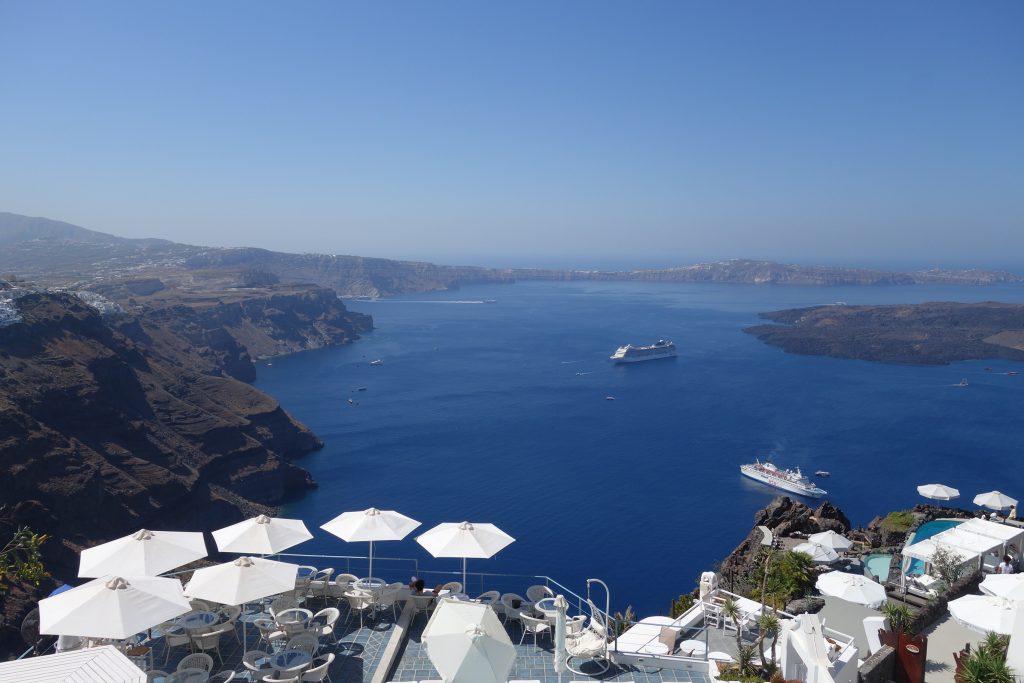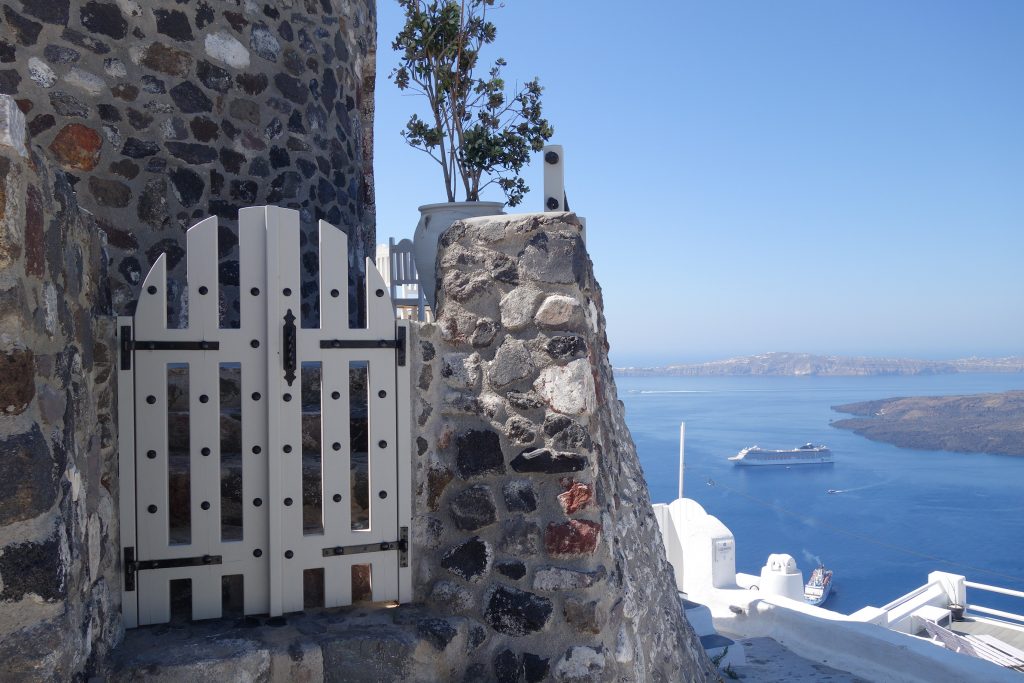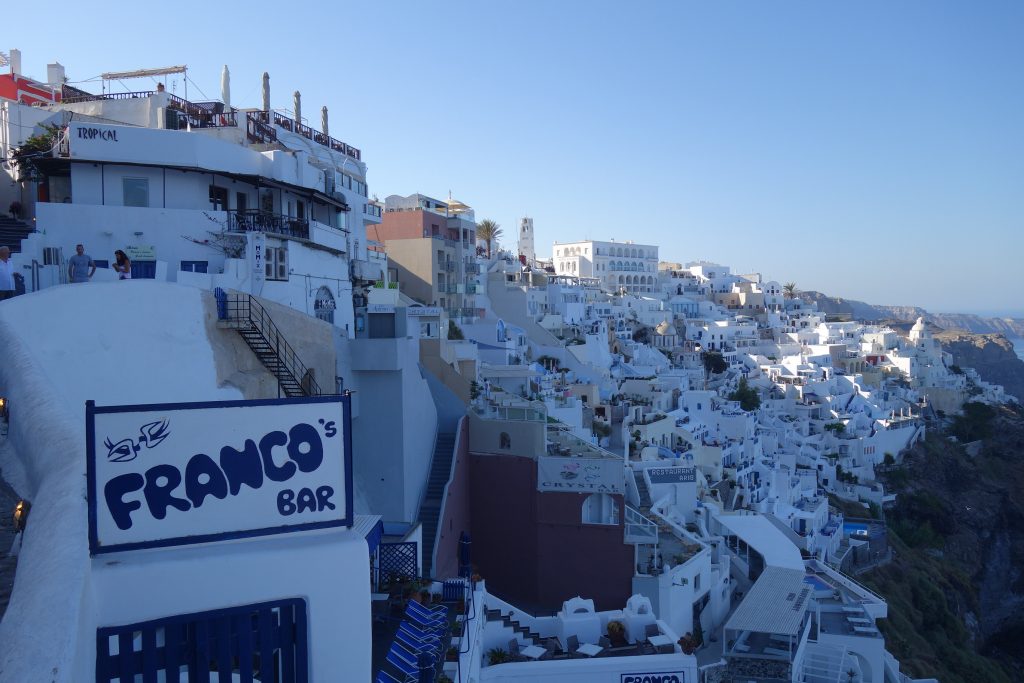 PAROS
We flew to the previous islands so the journey from Santorini to Paros was our first time on Greece's ferries. I booked us the cheaper, slower boat with economy tickets that don't give you an assigned seat (because #ballingonabudget), so we had no idea what to expect. Especially since most of our travel ferry experience was in SE Asia where you're just hoping the boat makes it to your final destination. Much to our surprise, the boat was really nice! We had a whole sitting area to ourselves with a couch, table and TV right by a huge window. I had LTE coverage the entire way so I killed time by FaceTiming with my fam while Trav enjoyed the coffee bar which only charged 1 euro extra to add Bailey's to your coffee. Winning! Even after beautiful Santorini, Paros was still pretty amazing. Beautiful beaches and quaint little restaurants along the water. Trav and I kept laughing saying this must be what people think all of our days are like, lounging in the sun and dinner on the beach watching the sunset. While our days in Greece were absolutely that, trust us that many of them have felt FAR from a vacation! We also had our first time hitchhiking in Paros… We took the bus to one of top rated beaches (Golden Beach) but didn't last more than 30 minutes because it was so miserably windy that sand hit us from every angle. We walked back to the road to catch the bus to another beach but realized it didn't come for another hour and we weren't in the mood to wait. So Trav in his Euro short-shorts stuck his thumb out and not 15 seconds later, a car pulled over! A really nice guy picked us and took us to nearby beach, this time in a cove protected from the wind. He was from Athens but his family has a holiday home on the island so he gave us some great local recommendations. Also, Trav kept his gyro streak going and in the two weeks we were in Greece, he consumed a total of seventeen gyros! I know what you're thinking ladies and sorry…he's taken.